This may come as no surprise to you, but my children seem to display a complete lack of regard for other people's belongings. For instance, when it comes to my furniture, nothing is sacred to my little heathens. There is no rug too plush not to be barfed upon, nor chair upholstery too luxurious that it can't be "enhanced" with the swipe of a ketchup-coated hand. This means if I ever hope to realize a future where my home is furnished in the casually chic yet inviting manner I dream of – a future with an unfussy, eclectic mix of choice designer, catalog, and quality vintage items – I'm going to have to ride out the storm known as "early childhood" with cheap furniture of dubious quality that can be readily disposed of when it's become too worn or disgusting to rehabilitate.
It goes without saying that if you're on a tight budget (as we all are these days) Craigslist is your friend. And, as I've learned through countless hours surfing the site for furniture bargains, not only is Craigslist a great source for bargain housewares it's also a great source for lessons in the fine art of communication. I don't want to get all "Glengarry Glen Ross" here, but if you're going to sell merchandise to bargain hunters, you need to frame your pitch properly. Some things to keep in mind:
Lesson #1: Always Know Your Audience
Lush, chocolate leather sofa from famed designers Mitchell Gold & Bob Williams, retails for $9,000 from their South Beach brick & mortar or you can find one used on 1st dibs.com – where God help you if you can you compete with all the designers!!! Avoid the stress and expense – embrace ease, contemporary sophistication, impeccable taste and streamlined style at a vastly discounted price. This lovely furnishing can be yours for $6,000, or best offer.
While basically well-written, you know what this ad says to me? Pretentious, snob.
All the name-dropping isn't going to have much meaning to your typical Craigslist shopper. The target market for high-end furniture is extremely limited. In my experience as both a buyer and a seller, Craigslist shoppers aren't looking to shell out $6k on used designer furniture. $500 on used designer furniture and you've got their attention – but $6k is like a down payment on a new Hyundai subcompact.
Here's my advice for the custom-made leather sofa people: If you spent that much having high-end designer furniture made, then shell out a couple of bucks in commission to have a reputable consignor do all the footwork for you. Besides, that will save you the insult of having a loser like me turn up on your doorstep offering you $250 for your "couch" and the unseemly hassle of trying to negotiate up to your $6k price-point, which is um – unlikely.
Lesson #2: Provide a good description
Arm Chair for Sale
Arm chair for sale. A good place to sit down. You could read a book or watch TV while sitting in it. Call me if you want to come by and take a look…
When I read this ad, Mister Arm-chair-for-sale-guy, I'm left feeling as though you, yourself only recently discovered the multi-purpose nature of chairs. The fact that arm chairs are good for sitting, and, while one is seated, could be used for activities revolving around sitting, suggests to me that you, my friend, are the master of the obvious. And, while I appreciate the earnest offer to call you if I want to take a look, the lack of detail in your ad hardly entices me to run to my phone.
My suggestion: Give us some adjectives, details about the chair such as, what color is the chair? How is it upholstered? What are its measurements? Who is the maker/manufacturer of the chair? What are the cushions filled with? What is its condition? How much are you selling the chair for?
Unfortunately for you arm chair guy, there are a lot of chairs in this world – many of them good for sitting. You're going to have to give us a little more information if you actually want to sell us on your chair over the competition.
Lesson #3: Know when your shit is ugly and you've paid too much for it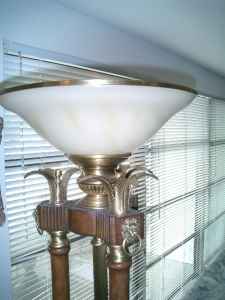 It happens to everyone. You get all excited about the idea of an object with a strong style statement setting the mood for a room. Even though the object has a very specific "look" (something Tim Gunn might describe as "a lotta look"), its $1200 price tag only adds to the allure. On impulse, you buy it and then realize over time that it doesn't actually "go" with anything else you own. After years of trying to make it work in your space, you're forced to admit that buying it was a costly mistake.
So, ugly lamp people – when you sit down to write that Craigslist ad, go ahead and mention that it's a high-quality item. You can even tell us the amount you paid for it, originally. But you need to make peace with the fact that NO ONE in their right mind is going to pay $600 for your horribly butt-ugly lamp. The best you can hope for is to get rid of it and move on with your life.
Lesson #4: Always Proofread Your Work
Dessignor Armour hrd wd costed $1200 – make me a offer!

Hvy hrd wood armour 4 sale. Use as tv cbnt or storeage/multi-ppse. Sweet style & no scratchez 2 wd. Paid $1200 for its 2yrs ago, but will sacrflice for best offer u can make.
Seriously, this ad is a disaster. It's like someone asked their 12 year old daughter with a pronounced hand tremor, to text in the ad posting via her cell phone. With it's combination of rampant abbreviations and poor grammar, it reads like the kind of half-hearted note scrawled in the back of my junior high yearbook by my long-forgotten lab partner in Biology. All this ad says to me as a consumer is that my "best offer" should be L-O-W, low because if this person can't even be bothered to write one coherent sentence to describe their merchandise, odds are good that they're too desperate to score their next dime bag to effectively negotiate price.