As 2009 and Raw Drip's first anniversary grows near, I've decided to take a look back at my favorite moments of 2008 in picture.  I hope you enjoy…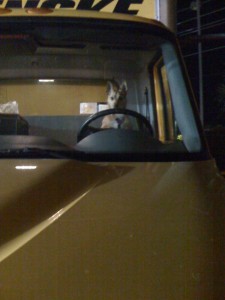 March: No, this is not a really blurry photo of Dick; it's my good kid, otherwise known as the dog, Detective Mike Logan.  Logan is pictured here behind the wheel of our moving truck at about 2:00 A.M. just outside Atlanta, GA.    While cute to look at, Logan's habit of standing on the horn of the truck nearly every time we stopped for diesel grew increasingly annoying.   You know, coffee alone will wake you up, but coffee combined with the sound of a semi-truck horn blaring in your ear as you're re-fueling for 30 minutes is a much more effective stimulant.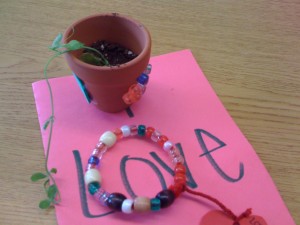 May:  For Mother's Day, Adam made me this adorable card, planted a sweet pea in a pot, and strung beads on this wonderful bracelet made out of pipe-cleaner.  Unfortunately my "zaftig" build meant that my new bracelet fit me more like a pinky ring. 
Being a mom means thinking outside the bracelet.  So, say hello to my newest (and most cherished) key chain…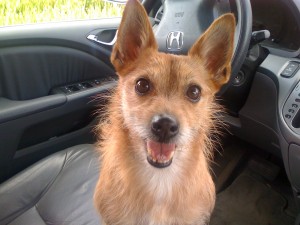 June:  Just like hunky Chris Noth (aka Detective Mike Logan of Law & Order & Mr. Big from SATC), my Logan's entire face just lights up when he smiles.  
Unlike Chris Noth, Logan's is a face that only a mother could love…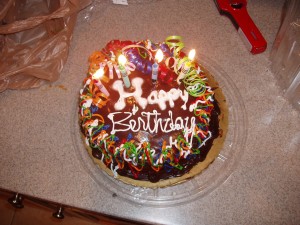 July: Adam turned 4 and the only thing he wanted in the world was M&Ms and chocolate cake.  These are things I want every day, so I can relate. 
Like many of you, I don't have time to spend baking from scratch so I've had to make some modifications to my birthday cake recipe.  In the interest of sharing, here it is:
Ingredients:
1 chocolate frosted cake from your local grocery store bakery
1 tube of plain white decorating frosting with writing tip.
Birthday candles
1 bottle of multi-colored sprinkles
1 roll of curling ribbon
Decorate cake while children are playing by scrawling something that looks like the words "Happy Birthday" with the tube of white decorating frosting.  Liberally apply sprinkles and finish off with several pieces of curled ribbon & candles.  Bribe witnesses.  Serve at room temperature with milk and/or ice cream.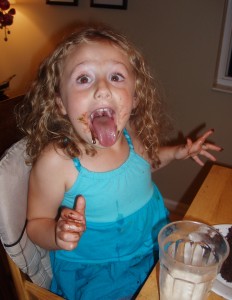 July:  I like to call this photo of Tabitha,  "Look at my chocolate-covered uvula!".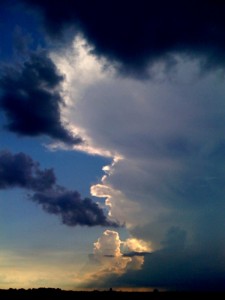 August:  While in Orlando for a business conference, I snapped this photo of an evening thunder storm moving over the Epcot Center at Walt Disney World from my 5th floor hotel room.   Frankly, I think this is my best cloud photo, ever.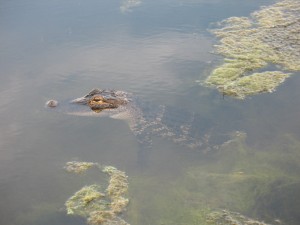 September: Here's our newest neighbor – the alligator who's just moved into the lake (swamp) behind our house.   First speculative investors drive down the price of our house to the point that they're selling B-O-G-O and now alligators are moving in and taking over.  Makes me long for the earthquakes, fire storms, and mind-numbing traffic of Southern California.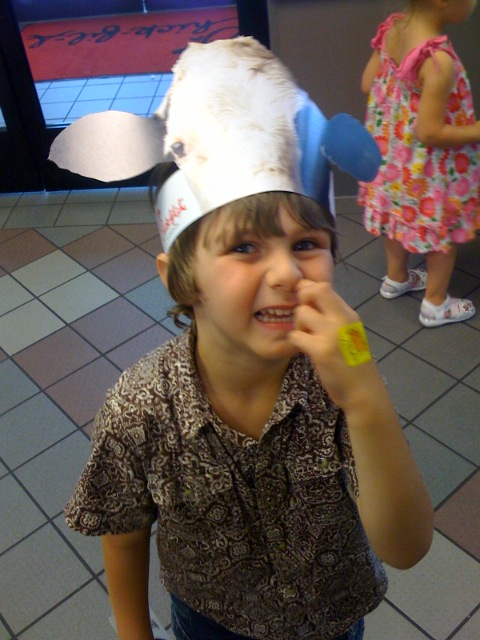 October: Adam's picking a winner.  See my post "Fool's Gold" for more on this fave topic.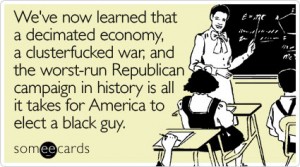 November:  In an historic election year filled with so many things worth laughing (and crying) about, this is, without a doubt, my favorite someecards.com card.  Yes, it's okay to be offended.  In fact, I think that's the point…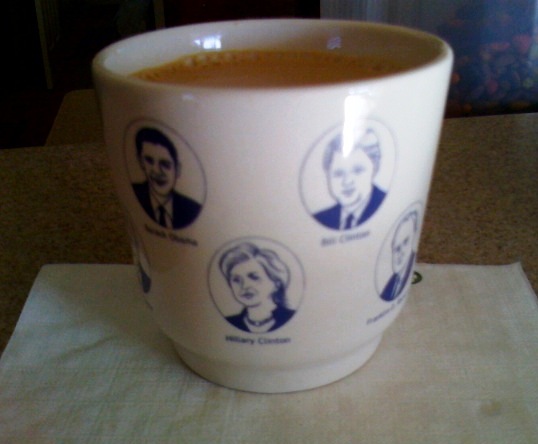 November: P.S.  My Famous Democrats coffee mug was right!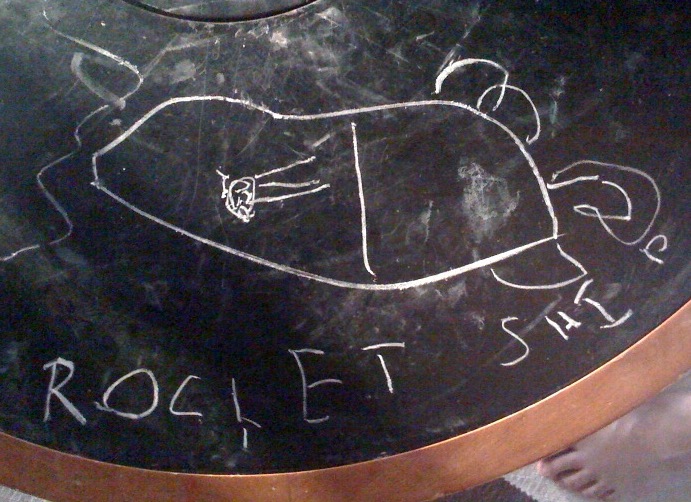 December:   There's no better way I can think of to close out 2008 than to share with you one of my favorite drawings from Adam.  Scrawled on the chalkboard table one morning when patience was scarce and the coffee maker's auto-brew setting mysteriously stopped working, I discovered this little masterpiece – "Mommy in  a rocket ship" – and suddenly, all my bitterness was replaced with nothing but gratitude. 
Here's to a 2009 where our bitternesses amuses us because it's so absurd and our gratitude fills us with all the inner peace we'd ever need.